---
This gallery contains comic-related artwork. Some of the art has been submitted by my customers, and others are parts of my personal collection. The artists retain their copyrights, and all artwork appears here with their permission. None of this is for sale, just so you know in advance, because each one carries far more meaning to me than anyone could ever offer me in cash! Comic book characters and likenesses are the property of their parent comic book company and/or their creators.
I believe I now have most of the original artwork up, with a couple of exceptions. I own some original artwork from a couple of different books that are large and I need to get my digital camera going to get those pictures online. Also, I would love to put up some of the original sketches & paintings that I have in various hardcover graphic novels, but I haven't yet figured out a way to scan those without damaging the books! If anyone has any tips on how to do this, please let me know and I'll get them online for everyone to enjoy. Since it will be graphic-intensive, this page might be slow to load (depending upon the speed of your connection) so be patient if you want to see some good artwork! The newest additions to this page appear first.
---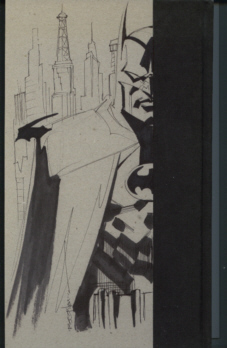 This is the back cover of my Batman: Black & White Volume 1 Hardcover graphic novel, featuring an original pen-and-ink drawing by Brian Stelfreeze. I saw Brian at almost every Heroes Convention I attended, and at the 1998 Heroes Con he was kind enough to create the above piece for me. You can usually find Brian amongst the good folk at the Gaijin Studios booth, which is always a good place to visit at a convention.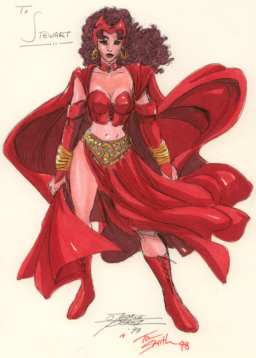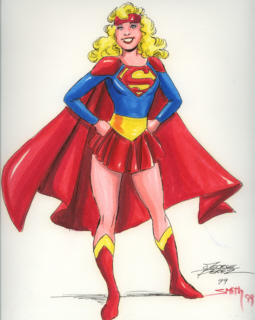 Each of the above is an original pen-and-ink drawing by George Perez, colored by Tom Smith. I purchased Scarlet Witch (on the left) in 1998 at the Heroes Con, and Supergirl (on the right) in 1999 at the Heroes Con. George Perez is notoriously difficult to peg down for a sketch because he is so popular and busy with signing autographs and other things for the fans at shows, but both of these years he was doing sketches and donating 100% of the proceeds to the Charlotte Firefighter's Burned Children's Fund so I got lucky! George does great work as always, Tom is an excellent colorist, I got two great additions to my original artwork collection, and a worthy charity benefited in the process. Hard to beat the all-around experience here!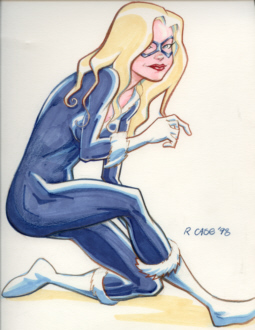 This is an original color drawing of the Black Cat by Richard Case. I asked for this when I met him at the 1998 Heroes Con, but there is an interesting story behind how I actually purchased this. I wrote my name and address on the back of the page because he wasn't sure he would finish before the Con was over, but I never got to see him again at the end of the show to pay for it. He wasn't sure I still wanted it, some fans can be flighty you know! So, I actually didn't see this until the 1999 Heroes Con. I approached his table, and asked if he remembered me. Sure enough, he did and had the finished picture with him. He was glad I wanted it, and said he almost had mailed it to me but since we lost touch he ended up waiting and thought maybe I'd show up again this year. Since he also lived in NC, he rightly figured there was a good chance I might be returning again. He did this in the animated-style of the cartoon of the time, which I really liked because it made this a more unique piece than I was expecting!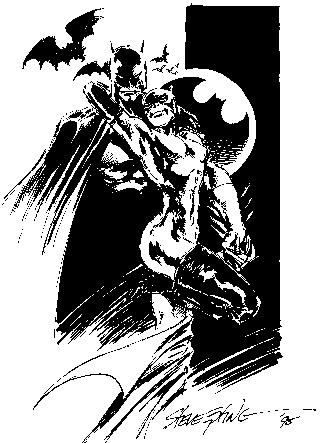 This is an original pen-and-ink drawing of Batman & Catwoman by Steve Epting. I purchased this from Steve at the 1995 Heroes Convention. At the time he had been working on Avengers and X-Factor for Marvel. He has also worked on Superman and Aquaman for DC, and most recently on First for CrossGen. I have been a big fan of Steve's work, and when I asked him for this sketch I wanted him to draw something he had not yet drawn but always wanted to draw. I still don't believe Steve has worked on Batman for DC, but as you can see he would be a very good fit!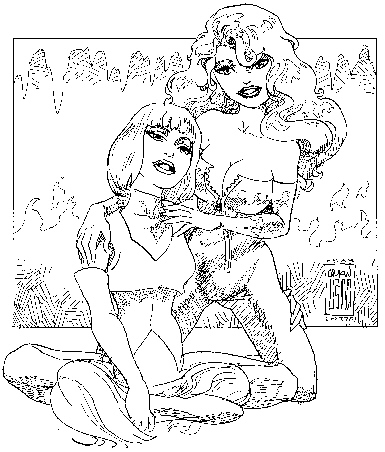 This is an original pen-and-ink drawing of Fire & Ice (DC Justice League characters) by Chuck Wojtkiewicz. I purchased this at a Heroes Convention, but again cannot remember which year. Chuck is a good guy, and has done work all over the place, but I'm mostly familiar with him from his work on Justice League and Legion of Super-Heroes books.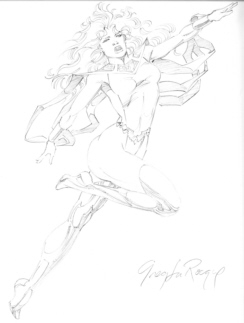 This is an original pencil sketch of a creator-owned character from the Exiled series by Greg LaRocque. I purchased this at a Heroes Convention one year, but can't remember which year since I went to so many! Greg has done a lot of good work, most notably to me his run on DC Comics' Flash series, but when I asked him for a sketch I wanted him to draw something from his new series at the time (Exiled). I only wish the scan showed the detail in his work better.

"The Mirror"
"The Mirror" was purchased directly from the artist, George Pratt, at a store signing on December 2nd, 2000. George gave me permission to put a link to his website here, so please visit him and see all of the other great artwork he has done. Most recently, he painted "Batman: Harvest Breed" for DC Comics. George has done a lot of work with DC including Batman, Sandman, and the classic "Enemy Ace: War Idyll" painted graphic novel.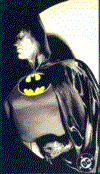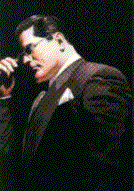 I made the above animated GIFs myself, using GIF Construction Set Professional and some DC Comics promotional material. It was reasonably simple and a fun venturing into the realm of simple animation.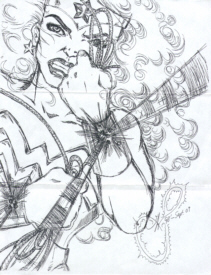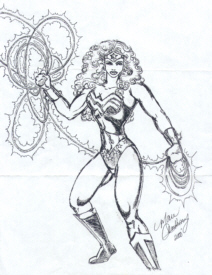 Both of the above Wonder Woman illustrations were sent to me by Marc Anthony. I like that he put the George Perez-style curls in her hair. Thanks again for the artwork Marc!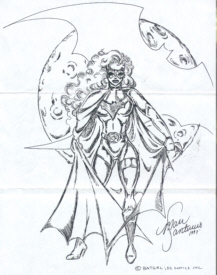 This illustration of Batgirl was sent to me by one of my subscribers, Marc Anthony. Of all the pictures he has sent to me, this one is my favorite. Marc has given me permission to link to his email address here, so you can contact him if you wish to compliment him on his excellent artwork :) Thanks Marc!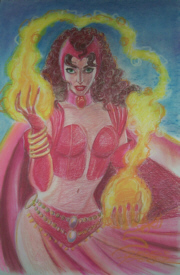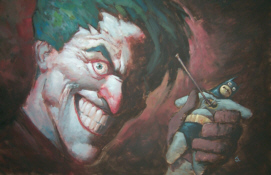 I bought the above original paintings, by George Perez in 1998 (Scarlet Witch) and Scott Hampton in 1999 (Joker), at the Heroes Convention Charity Auction for the Charlotte Firefighter's Burned Children's Fund. A great convention to attend and some good charity work done by the fine folks that run the show!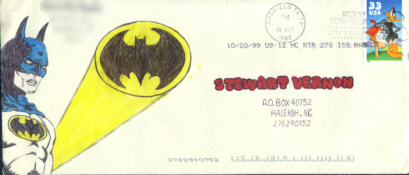 This was sent to me by Felicity of TX along with an order. Envelope artwork is cool. Thanks Felicity!